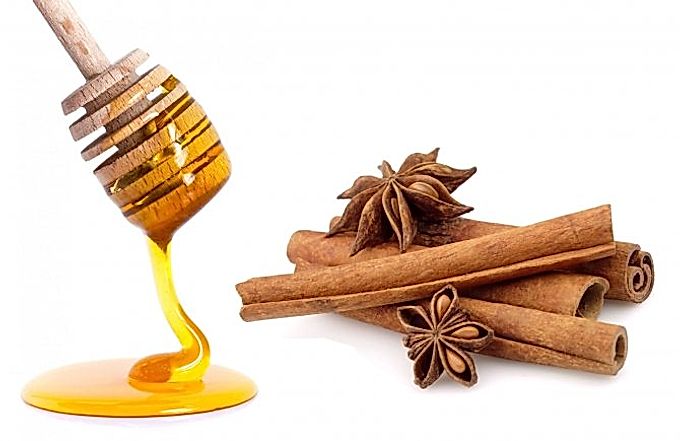 Cinnamon and honey create a powerful tandem that can significantly accelerate hair growth. A mask using these components is one of the main ways to combat hair loss. The honey and cinnamon mask has another wonderful property. This cosmetic product helps to lighten the strands by several tones.
Due to its unique chemical composition, which includes various vitamins, trace elements and other beneficial substances, cinnamon can have a healing effect on the hair and scalp. Regular use of homemade cosmetics with cinnamon promotes hair growth, as well as their strengthening and restoration. The beauty of hair was considered one of the main achievements of a woman. After all, healthy curls are not only what nature gave us. To have a beautiful and stylish hairstyle, you need to regularly care for your hair. Read more: Mask for hair growth with dimexide.
Modern cosmetics are very effective in combating various problems, but the most effective and useful ingredients in the masks are natural ingredients. Herbs, vegetables, fruits, berries and spices can restore the hair to its former attractiveness. Quite often, honey and cinnamon are included in the composition of hair masks. Whether they are useful and effective, let's try to figure it out.
Benefits of honey and cinnamon for hair
Honey is a real storehouse of vitamins. Since ancient times, honey has been considered not only a useful delicacy, but also a real medicine. In cosmetology, just like in medicine, honey has become simply irreplaceable. It is added to almost any mask for dry and lifeless hair. It is able to actively nourish, moisturize and saturate the skin with oxygen. Cinnamon, in turn, is considered a powerful antioxidant, it has bactericidal properties. Cinnamon masks exfoliate the scalp, remove keratinized skin flakes, and revitalize the epithelium. With the help of cinnamon, you can get rid of dandruff and split ends.

Universal Recommendations
Pay attention to contraindications for external use of the product - individual intolerance to the components. Immediately before use, test for hypersensitivity - apply a small amount of the composition on the skin of the wrist or behind the ear. If there are no discomfort, then feel free to use a mask. Do not rub the product into the skin, otherwise severe irritation will occur. If you are allergic to cinnamon, replace this spice for lightening hair with cardamom. In case of contact with the mucous membrane of the eye, rinse with plenty of water. Use cinnamon masks to eliminate dandruff, with excessive oily hair. Don't use hard water, it will make your hair dull. Add apple cider vinegar or herbal teas when rinsing.
The more perseverance you show in the implementation of these and other recommendations, the sooner the hair will be filled with strength, acquire a lively shine, become smooth and elastic.
Mask with honey and cinnamon for lightening hair
Components:
honey - 2 tablespoons;
ground cinnamon - 2 tablespoons;
lemon;
conditioner or hair balm.
Cooking method:
Squeeze juice from half a lemon.
Heat honey in a water bath.
Mix lemon juice, honey, cinnamon and hair product.
The resulting slurry must be thoroughly mixed into a homogeneous mass. When foam begins to appear on the surface, you will understand that the product is ready. The mask must be applied to clean, moisturized hair. Carefully spread the mask along the entire length, wrap your head with a bag and a towel. Leave for half an hour - an hour. You may feel a slight tingling sensation, but it should not be uncomfortable. Such a mask is able to lighten hair after the first application by half a tone. If you have dyed hair, then this mask is not recommended for you, as the result can be unpredictable. If you want to achieve lighter shades, then after washing off the mask, you will need to rinse your head with chamomile decoction and leave your hair to dry naturally.
Mask for accelerated hair growth
Components:
honey - 1 tablespoon;
ground cinnamon - 2 teaspoons;
burdock oil - 1 tablespoon;
egg yolks - 2 pieces.
Cooking method:
Mix fresh honey and oil. Warm in a water bath for 10 minutes.
Add cinnamon powder and beaten yolks to the mass, mix thoroughly.
The resulting slurry must be rubbed into the hair roots, into the scalp. After a long massage using a mask, you need to distribute the remnants of the product along the entire length of the hair, without fail paying attention to the tips. Leave the mask on for 40 minutes, then rinse with warm water using baby shampoo. Such a mask has a great effect on the hair follicles, it awakens them and activates them for increased growth. Already after 5-7 applications, you can notice how bald spots and bald patches are overgrown, many new young hairs appear, and hair loss noticeably stops. The full course of treatment is 10 applications with an interval of 2-3 days.
Basic Recipe
The main recipe is a brightening hair mask, which includes cinnamon, honey and conditioner. It is able, with regular use, to make the original color of the curls much lighter. So it is recommended to do it primarily to fair-haired girls. The recipe is easy to prepare and apply.
Ingredients:
honey - 70 ml;
ground cinnamon - 3 tablespoons;
hair conditioner - 200 ml.
Cooking method:
Heat natural, fresh (not sugared) honey in a water bath to a very warm, almost hot state.
Mix all ingredients in a glass or ceramic bowl. For this stage, you need to take a wooden or plastic spoon (fork), but not a metal one: it will oxidize.
Beat until foam appears on the surface.
At the end, you should get a homogeneous mass.
Mode of application:
Wash your head.
Allow your hair to dry slightly and leave it moisturized.
Comb with a thick comb.
Apply the honey-cinnamon mixture to each strand, soaking the roots and ends with it.
No need to apply and even more so rub the mask into the scalp: this is fraught with burns.
If the cosmetic mixture gets on the face, it must be removed immediately.
Fasten hair at the crown.
Make a "cap" out of a plastic bag, wrap your head with it. From above, strengthen the insulation with a towel - terry, large, thick.
The greenhouse effect is needed only at the initial stage of clarification, it lasts for 40-45 minutes. After this time, the cellophane with a towel can be removed and the mass left on the hair in the open air for another 3-4 hours.
Then rinse everything with warm running water.
Fix the brightening effect with the last rinse of chamomile decoction.
Dry the curls without a hair dryer.
Comb out the remaining grains of cinnamon from dry strands.
This is the main, most popular recipe for a cinnamon honey mask with a brightening effect. If you add other components to it, some properties will increase, some will weaken, but in any case, the mask will be very useful for the growth and strengthening of hair of any type.

After using the cinnamon-honey mixture, the hair is visibly transformed, becoming healthy and radiant.
Anti split ends mask
Components:
honey - 1 tablespoon;
ground cinnamon - 2 teaspoons;
banana;
coconut cosmetic oil - 5 drops.
Cooking method:
Mash the banana with a fork until smooth.
Heat honey in a water bath.
Mix honey, banana, cinnamon and coconut oil. The latter can be replaced with burdock or olive.
The resulting gruel should be applied only to the ends of the hair. Wash off the mask at least one hour after application. This cosmetic product nourishes the damaged hair structure well, the curls become smooth, and the tip of the hair seems to be sealed. Hair stops splitting, becomes more beautiful and elastic. For a complete cure of hair, it is necessary to carry out at least 5 procedures for applying a similar mask. After that, it is enough to make a mask once a week for prevention.
Honey and cinnamon are welcome guests not only on your table. When used correctly, they will give the hair its incredible shine and color saturation.
Hair mask - cinnamon, honey, lemon
An oxidizing agent, the role of which is freshly squeezed citrus juice, is capable of enhancing the effect of the components under consideration. To prevent drying of curls and lighten hair with cinnamon and honey without damaging them, it is important to apply a nourishing or moisturizing balm immediately after using the mask. A noticeable result will appear after 4-5 procedures, for 1 session the strands will change the shade quite a bit, by 0.5 tones.
Lightening with cinnamon and honey - recipe
Ingredients:
natural fresh lemon - 5-7 ml;
honey - 200-240 ml;
cinnamon powder - 30-40 g.
Preparation, application:
Stir the spice into the honey until smooth.
Add lemon juice.
After mixing all the components, leave the product warm for 50-60 minutes.
Distribute the resulting mass over clean, dry curls, comb well.
Warm your head with a plastic cap.
After 4-4.5 hours, wash the strands.
Repeat 2-3 times a week.
Honey mask with cinnamon for strengthening and hair growth
Compound:
50 g of liquid honey;
3 dessert spoons of olive oil;
20 drops of essential oil of cinnamon.
Cooking method:
Honey should be slightly warmed up and mixed with oils until a homogeneous consistency.
The resulting mixture should be rubbed into the roots of the hair, and the remains should be distributed evenly along the entire length of the strands.
Wash off the mask with any shampoo after about 60 minutes.
This wonderful tool strengthens curls and promotes their active growth.
The benefits of cinnamon
Cinnamon powder (or oil) is used primarily as a means of improving blood circulation and stimulating metabolic processes in skin cells. The main active ingredient contained in the bark of this plant from the laurel family is eugenol, which is a natural antiseptic. It is for this reason that the use of cinnamon helps to eliminate the inflammatory processes of the skin. Tannins activate metabolic processes in tissues and improve blood circulation. Essential oils and fatty acids provide curls with additional nutrition and saturate them with moisture. In addition, cinnamon has a pleasant warm aroma that has a beneficial effect on the nervous system.
Features of using a mask with cinnamon and honey
Despite the many advantages, cinnamon powder, like any other spice of exotic origin, can have a very aggressive effect on the skin when applied externally. In order to avoid unpleasant consequences, you should properly prepare and use any home remedies that contain this component.
Cosmetic mixtures with cinnamon should be used with caution in hypertension (because this product affects the blood circulation process). It is also undesirable to use cinnamon masks for severely damaged hair - otherwise the situation can be aggravated.
You can buy cinnamon at any grocery store, where it is sold in the form of rolled sticks or in powder form. When buying ground cinnamon, you should pay attention to the quality of the product - it should not contain impurities.
Cinnamon oil or powder is usually used in combination with other ingredients: honey, kefir, eggs and fruits. The accompanying ingredients must be of high quality and fresh. Medicinal mixtures must be prepared immediately before use - they are not subject to storage.
For the preparation of cosmetic compositions, ceramic or glassware is used. Metal may change the properties of the product. Before using masks or other means, it is advisable to conduct a sensitivity test. A small amount of the product is rubbed into the skin, and after a quarter of an hour it is washed off with water. In the absence of a skin reaction (burning, redness or severe itching), the composition can be safely used for its intended purpose.
It is better not to wash your hair before applying the mask (just slightly moisturize if necessary) - this way you can minimize the aggressive effect of the treatment mixture.
The prepared composition is first applied to the scalp, and then it is already distributed over the entire length of the strands with a brush or comb. It is better to pre-dip the ends of the hair in oil (for example, in olive oil) - this will help prevent their delamination.
To enhance the effect of medical procedures after applying the cosmetic composition, the hair should be wrapped with a film and put on a cap over it. (towel or handkerchief).
The duration of action of therapeutic mixtures may vary depending on the purpose of the remedy. In most cases, the composition is applied for about 25 minutes (oil mixtures can be left for an hour or longer if there is no discomfort). If any discomfort occurs, the product should be washed off immediately. The course of treatment is usually at least 10 sessions, after which you should take a break.
The cosmetic mixture is washed off with any shampoo suitable for the type of hair. After removing the composition, you can rinse your hair with herbal decoction (nettle, chamomile or any other) - this will enhance the effect of the mask. At the end of the procedure, the hair should be blotted with a towel and left to dry naturally (it is undesirable to use a hair dryer).
Helpful Tips
There are already legends about the healing power of honey, and it doesn't matter what kind of honey will be included in the mask recipe - buckwheat, clover, linden or sweet clover. The main condition is that the product must be fresh and not candied (although this is not a drawback for real honey). In the recipe, this ingredient performs the following functions:
prevents the appearance of gray hair;
brightens hair;
nourishes and restores hair follicles;
eliminates microdamages of the skin;
normalizes the work of the sebaceous glands;
provokes increased hair growth;
has a beneficial effect on the condition of the skin of the scalp;
has bactericidal and moisturizing effect.
For cosmetic purposes, it is recommended to use Ceylon cinnamon, as it is richer in chemical composition, and therefore more effective. The composition of the bark of the cinnamon tree includes vitamins, minerals, antioxidants and a special substance - tannin, which promotes the speedy healing and restoration of tissues. Cinnamon:
prevents the appearance of dandruff;
improves blood circulation;
stimulates hair for intensive growth;
endowed with cleansing properties;
restores dry and brittle hair;
promotes tissue regeneration.
If unpleasant symptoms appear that indicate the inappropriate use of a cinnamon-honey mask (itching, burning, redness of the skin, tingling), then the mixture should be washed off immediately.
All medical masks are applied evenly and in a thick layer.
If the hair is thin, brittle, sluggish and lifeless, it is worth introducing any vegetable oil in the amount of a teaspoon into the preparation.
Brightening honey-cinnamon masks can be used indefinitely, but with the condition that the interval between procedures is at least seven days.
In its "pure form", the main ingredients are not used, and an auxiliary ingredient is necessarily present in the composition, endowing the finished product with specific properties.
In the process of preparing mixtures, metal utensils cannot participate, therefore, spoons for mixing the components must be wooden or plastic.
Lightening is not the only effect that the Cinnamon-Honey mask produces on hair. When other components are added to it (eggs, dairy products, essential and cosmetic oils) and the exposure time on the hair is reduced, the mask loses its pronounced brightening properties, but acquires a lot of other, no less positive ones. Thanks to its unique composition.
fructose restores microdamages;
glucose makes curls smooth;
riboflavin moisturizes, normalizes the production of fat by the subcutaneous glands (also present in cinnamon);
niacin gives the hair a healthy, bright, shiny, rich color, prevents the early appearance of gray hair (also found in cinnamon);
pantothen strengthens the roots;
pyridoxine copes with dandruff and seborrhea (contained in sufficient quantities in cinnamon);
folic acid activates hair growth (present in cinnamon);
ascorbic acid improves subcutaneous circulation, prevents baldness and hair loss (found in cinnamon);
potassium moisturizes;
iron contributes to an uninterrupted blood supply.
Cinnamon:
beta-carotene prevents tissue aging, prevents destruction (brittleness and cuts) and hair loss;
retinol has restorative properties;
thiamine stops inflammation, soothes irritated skin, itching, eliminates white flakes of dandruff;
tocopherol starts renewal processes;
phylloquinone strengthens blood vessels, which contributes to accelerated hair growth;
choline is needed primarily for dry and damaged curls: it has moisturizing and regenerating properties.
Such a successful combination - cinnamon and honey - within the framework of one cosmetic product has an excellent healing effect on the scalp and hair. A homemade mask based on these ingredients is recommended for fair-haired beauties, as well as for those who have slow hair growth, damaged strands, split ends, and seasonal hair loss has begun. All these problems can be solved with this tool.
Cinnamon and honey are recommended for fair-haired women, as the lightening effect may appear unevenly on dark hair.
In order for the procedure not to cause allergies and unpleasant consequences, it is necessary to perform an allergic test before it is carried out. It is necessary to apply a small amount of the mask on the wrist and follow the skin reaction after 5-10 minutes.
To enhance the effect of the procedure, you must adhere to the following recommendations:
apply the mask only in a warm form;
dry hair naturally;
mix the ingredients for the mask in a glass or ceramic bowl;
stir the mass with a wooden spatula;
take liquid honey;
do not overexpose the mask to women with dark hair;
apply masks only on clean, but dry curls.
It is not necessary to allow cinnamon to get on the mucous membranes, as a strong burning sensation may appear. In case of contact, rinse the affected area of ​​\u200b\u200bthe body well.
Shampoo with cinnamon for any type of hair
Compound:
200 ml of shampoo;
a teaspoon of cinnamon oil;
a few drops of macadamia oil;
5 drops of patchouli essential oil.
Method of preparation: the oils must be mixed and added to the shampoo bottle.
This tool is suitable for daily care of curls. Their condition improves significantly with regular use of the remedy. Hair becomes more manageable, silky and shiny.
Among other advantages of cinnamon masks (and other remedies), one can note their wonderful aroma, thanks to which medical procedures can be not only useful, but also pleasant.
Hair masks with honey and cinnamon - recipes
There are many ways to prepare a cinnamon hair mask, and all of them are aimed at providing additional nutrition to the hair, restoring the damaged structure, and also activating growth. With a complex effect on the hair of coconut oil, honey, essential oil and cinnamon powder, after a few applications, the hair is miraculously transformed.
The unique cosmetic properties of honey can not be reminded. Shiny, smooth and healthy hair is the result of using honey masks. Coconut oil creates a protective film around each hair, which protects the scalp and hair itself from the adverse effects of shampoos and other factors. In addition, the oil gives the hair an intense natural shine.
Macadamia oil reduces hair loss and breakage. It is very well absorbed without leaving a greasy sheen. Cinnamon contains a whole complex of antioxidants and nutrients that have a beneficial effect on hair, giving volume and volume. Cinnamon essential oil awakens hair follicles, enhancing hair growth.
This mask is suitable for any type of hair, but the proportions of ingredients for effective care and restoration must be selected individually:
Method of preparation: mix 3 tablespoons of honey and cinnamon powder, a teaspoon of macadamia and coconut oils and add 5 drops of cinnamon essential oil. Melt coconut oil and honey separately from other ingredients in a water bath. Then add the rest and mix thoroughly.
The finished fragrant mixture of warm should be applied to dried hair, covered with a film and insulated. Hold for about 40 minutes. Hair after the hair mask with cinnamon becomes obedient, smooth and moisturized, with a pleasant smell of cinnamon, which lasts until the next hair wash.
Hair mask - cinnamon, honey, egg
If the hairstyle has lost volume and splendor, there are damages on the curls, and they often break off, intensive care is needed. In such cases, cosmetologists advise adding a fresh egg to the mask. The yolk is rich in valuable nutrients, organic protein and keratin, which can restore the fragile structure of the strands, restore their elasticity and softness.
Cinnamon with honey for hair - recipe
Ingredients:
egg yolk - 1-2 pcs.;
spice in powder form - 20-35 g;
honey - 50-55 ml.
Preparation, application:
Lightly beat the yolk with a fork.
Add honey and cinnamon to it.
Distribute the mixture thoroughly through the hair.
Make a scalp massage.
Warm the curls with cellophane and a towel.
Wash off after 45 minutes.
If the hair is prone to oiliness in the root area, dandruff and itching appear periodically, esters can be added to the proposed recipe:
tea tree;
rosemary;
juniper;
chamomile;
lemon.
Cinnamon Brightening Hair Mask
This is an absolutely safe and, moreover, a very useful alternative to various clarifying mixtures. Preparation of the mixture: you need to mix a cup of regular hair conditioner, a third of a cup of honey and 3 tablespoons of cinnamon powder. Using a wooden or plastic spoon, mix the ingredients thoroughly. It is not recommended to use metal utensils, since the metal easily reacts with the components of the mixture. Applying the cinnamon hair mask: Wash your hair as usual and dry your hair a little. Then divide into strands and apply the mixture on them. Be careful not to stain your face with cinnamon, as it can cause redness or irritation. It is not recommended to rub such a mask into the scalp.
The exposure time of the hair mask with cinnamon: put a cap or a regular plastic bag on your head, warm it up. Keep the mask in this way for about half an hour, and then remove the insulation - you no longer need to warm your hair. Keep the mixture on your hair for about four hours. The longer it acts, the more intense the result. This method allows you to lighten your hair by two or three tones, and the more you use it, the more your hair will lighten. In addition, for greater effect, you can increase the amount of cinnamon powder.
Benefits of Honey Cinnamon Mask
Modern cosmetology has developed many drugs that are designed to improve the condition of the hair, restore it and treat it. Unfortunately, not all brands of cosmetics can boast a good reputation.
It often happens that what is promised does not match the reality. Only good things are written in the instructions and descriptions for the product, but in reality you can observe the exact opposite result. Really high-quality and effective drugs are expensive, and not everyone has the opportunity to purchase them.
But don't get upset. There are many home hair care methods. They are simple, effective, and, most importantly, inexpensive. With the right selection of ingredients, home care products are in no way inferior to professional ones. No wonder they say that natural natural ingredients help much better than those that have undergone chemical and heat treatment.
Some of the best homemade compositions are cinnamon and honey hair masks. The ingredients are inexpensive and can be easily found on the shelves of shops and supermarkets. Even better, if the honey used for cooking is homemade, not store-bought. So you can be sure that the product has not lost its natural beneficial properties and is made from natural ingredients. You can also make your own cinnamon. From the sticks, by grinding and drying at home, a better and more natural powder is obtained.
This mask is suitable for all types of hair.
It is very popular among women, as it has miraculous properties:
curls become more obedient, soft, airy;
active ingredients in the composition perfectly fight dandruff and work to prevent skin diseases;
the problem of split ends disappears (if you add egg yolk to the mixture, it will help glue the tips and give them extra strength);
already after several applications, the hair acquires shine, elasticity and a healthy glow.
The advantages of this mixture are obvious. It remains only to prepare it and observe the excellent result yourself. Your hair will "say" a huge thank you for such care and care.
Lightening hair with cinnamon
Cinnamon powder has brightening properties. This is a real find for natural and dyed blondes. Natural light blond will lighten by two to three tones. If you have blonde hair and want to go blonde without using harsh products, cinnamon is the perfect option for you. As a result, you will not only get the desired shade, but also provide your curls with complete care. In combination with honey, cinnamon powder gently nourishes, saturates every hair with useful vitamins and minerals from root to tip. Each strand after using such a mask is filled with strength, health and vitality.
If you are a dyed blonde, then with the help of honey and cinnamon for hair, the main problem of everyone who has bleached curls can be solved: yellowness will be removed. Every woman who constantly dyes herself white knows how difficult it can be to get rid of a rich yellow tint without burning her hair. The cinnamon mixture will solve this problem for you. Regular use of this component in a month will give a positive result. Curls will become much lighter and healthier.
For owners of natural brown or black hair, the mask will not bring such results. The thing is that the components lighten the hair by only two or three tones, and on dark curls it will not be so noticeable.
But there is one nuance that is worth paying attention to. It is as follows: if you naturally have a light shade of hair, but you dyed it dark, then this mixture will help you quickly return to your natural color, gradually washing out the paint, restoring the structure and brightening each hair.
Unique properties of honey and cinnamon for hair
People have been using honey to treat and maintain the beauty and health of their hair since ancient times. It is valued for its useful and unique properties. As a component of therapeutic mixtures, honey gives hair shine, eliminates dandruff, dullness, and actively fights the problem of cut ends. Curls become extremely soft, pleasant to the touch and obedient. In addition, they keep clean and fresh for a long time. With the help of this ingredient, you can not only accelerate growth, but also restore hair after perm or dyeing.
Cinnamon can be included in the mixture as a powder or essential oil. In combination with honey, its properties are enhanced, but it acts a little softer than as an independent component. It is used to improve the general condition of the hair and prevent diseases of the scalp. In addition, it increases blood circulation and thus stimulates the growth of hairs. If you apply masks weekly for several months, then in six months you can grow hair by about 20-30 cm.
By adding yolk to the composition, you can restore burnt curls, protect them from the negative effects of external factors: high and low temperatures, stress, poor quality water, etc.
The good thing is the smell. Cinnamon smells very good. It is a pleasure to use it as part of masks, conditioners, scrubs and creams.
From such procedures you will receive not only health benefits, but also emotional and spiritual pleasure.

Cinnamon Hair Masks - Precautions
Despite the excellent healing properties of cinnamon, there are some contraindications for its use. Before using cinnamon masks, check for an allergic reaction by applying a small amount of the mixture on your wrist. With a strong burning sensation of the cinnamon hair mask on the scalp, it is better to stop the procedure by washing off the mask using shampoo. You also need to reckon with the coloring effect of cinnamon masks. If lightening the hair is undesirable, then it is better not to keep the mixture on the hair for a long time.
The combination of cinnamon, which can visibly lighten strands and accelerate hair growth, and honey, which restores microdamages and nourishes dull, lifeless curls, gives an amazing effect. These two ingredients complement each other: honey softens the somewhat irritating and aggressive effect of cinnamon, and that, in turn, brings new notes to honey hair treatment. There are a lot of recipes for this amazing remedy. In its pure form, the components are not used: the "Cinnamon and Honey" homemade hair mask is supplemented with various auxiliary components of a liquid consistency, because otherwise the product turns out to be too thick and sticky.
Contraindications
The benefits of cinnamon-honey mixtures do not negate the fact that funds are not always allowed for use. The spice is considered an aggressive substance, while honey manifests itself as a strong allergen due to the presence of pollen. Contraindications:
allergic reaction to products, individual intolerance;
increased sensitivity of the skin;
pregnancy, breastfeeding period;
the presence of abrasions, scratches, wounds, microtraumas on the scalp;
migraines, high blood pressure, vascular disease, heart disease;
inflammatory processes on the skin (dermatitis).
A mask with cinnamon and honey is an effective means to strengthen, grow, nourish or improve hair. The composition often includes vegetable oils (sea buckthorn, olive, coconut, castor or almond), kefir, egg yolks and herbal decoctions. Healing mixtures also help to lighten strands, get rid of split ends, dandruff, and itching.
Lightening hair with cinnamon
Cinnamon is suitable not only for strengthening the hair, but also for changing its color. Lightening your hair with cinnamon is a great way to color your hair without the harmful chemicals in regular hair dye. The simplest recipe for a mask that changes the color of the strands includes only three components:
4 tablespoons of cinnamon;
a glass of honey;
three tablespoons of olive oil.
The ingredients are mixed and slightly diluted with water.
The brightening mask should have a uniform consistency. It is important to monitor its density so that the coloring composition does not drain from the head. To make the mask thicker, you can add a little more honey. Natural dye is applied to clean hair and combed thoroughly. To lighten hair with cinnamon to give a visible effect, the mask is aged for 4 hours. After that, the mixture is washed off and not only hair lightening is obtained, but also strengthened and moisturized hair.
Another recipe for a product that can lighten hair color is supplemented with lemon, which acts as an oxidizing agent. The ingredients are mixed in this quantity:
250 ml of moisturizing balm;
250 ml of honey;
two tablespoons of cinnamon;
a teaspoon of natural lemon juice.
In order for lightening to go well, you must adhere to several rules. For the preparation and application of the coloring composition, do not use metal tools and utensils. Iron will enter into an oxidative reaction with cinnamon, and as a result, the hair will become green. After mixing, the paint should stand for about an hour.
Reviews
Each person is an exceptional individual. What suits one may not suit another at all.
To understand what is really right for you, you need to choose, try, and also take into account the experience of people who have tested the effect of the cinnamon-honey composition on their hair:
Alina, 33 years old, Armavir: "At one time I was fond of safe hair lightening. Homemade paint based on cinnamon and honey brightened well, beautiful unexpected shades were obtained. But the procedure took too much time, I began to buy chemical ones.
Irina, 24, Pyatigorsk: "Such masks heal very well. Hair became less greasy and acquired a healthy look. I love the smell of cinnamon, so I get the most out of the procedure."
Katya, 32, Kamensk: "Once I made such a mask and was, to put it mildly, dissatisfied. After her hair acquired an ugly color, turned pale. Before that, I had not painted, but I had to.

Result
Making your own cosmetics is the best thing you can do for the beauty and health of your skin and hair. When giving preference to a store product, you need to understand that only chemical compounds give instant effects, and manufacturers' promises are often just words.
Things to know (Q&A)
Is a honey mask good for curly hair?
While detoxing, using honey can help give your hair a boost of beneficial amino acids, vitamins, and minerals. You can even use honey after the detox to keep your curls moisturized and growing .
Is cinnamon and honey good for hair?
Honey, Olive Oil, And Cinnamon Hair Mask

It soothes inflammation, psoriasis, and scalp dermatitis and can help prevent dandruff . It also helps balance scalp pH levels. Heat the olive oil to make it warm. Add in the cinnamon powder and honey to make a paste. 7 days ago
How long do I leave cinnamon and honey on my hair?
Even though the honey is sticky, it's the cinnamon that will give you the most difficulty when you're cleaning the mixture from your hair. Rinse your hair.
...
Let it sit.
Put your hair in a bun and cover it. ...
Leave the mixture in your hair for at least 2-4 hours. ...
Put a towel over your pillow.
Can cinnamon damage your hair?
However, since it is a natural treatment, it doesn't damage the hair fibre . This means you'll save on money and also save your hair from the chemical damages. Since the process is gradual, you can also choose how light you'll want your hair, as you apply cinnamon to it.
Does honey help with curly hair?
Honey Is a Humectant

With curly hair , we're constantly trying to moisturize our hair and fight dry hair. Honey helps to replenish moisture that is lost and also helps to fuse vitamins and minerals into our hair strands, keeping our hair healthy and strong.
What masks are good for curly hair?
20 Hair Masks for Curly Hair to Bring Your Locks Back to Life
Garnier Fructis Damage Repairing Treat 1 Minute Hair Mask. ...
Olaplex No. ...
Cantu Shea Butter Deep Treatment Masque. ...
SheaMoisture Coconut & Hibiscus Hair Masque. ...
Camille Rose Algae Renew Deep Conditioning Mask. ...
Mielle Organics Babassu & Mint Deep Conditioner.
Does honey damage your hair?
Honey has rich antioxidant properties which prevent damage , keeping your scalp and hair healthy. Honey is an emollient, which means it is capable of softening and soothing. Honey seals moisture in your hair, keeping it conditioned. This reduces breakage, which is often a cause for slower hair growt
Does honey dry out hair?
Honey is a natural softener which makes it a superpower ingredient in any hair elixir. As a humectant, honey prevents your hair from drying out . Because of its high sugar content, honey also does a great job at helping your strands retain moisture and maintain strong follicle
Can cinnamon damage your hair?
How long it takes will depend on your natural hair color. For example, black hair will not turn a bright red with this treatment, but it will develop red tints. However, you can apply it as much as you want, since cinnamon won't harm your hair .
Does honey and cinnamon help hair growth?
But did you know that you could also use cinnamon for hair growth? Science tells us that cinnamon may reduce hair loss and even prevent balding (1). Adding cinnamon to your hair care regimen might aid hair health by stimulating hair growth and improving hair texture and appearance
Can you leave cinnamon in your hair?
When applied to the scalp, cinnamon may stimulate circulation. This could encourage hair growth and reduce hair loss . It also has antifungal properties, which might help treat dandruff caused by Malassezia, a type of fungus. Cinnamon can't dye or lighten your hair, thoug
How long should you leave cinnamon in your hair?
How to try using cinnamon in your hair
In a small saucepan over low heat, warm 1/4 cup coconut oil or olive oil. Heat until the oil is lukewarm. ...
Add 3 to 5 drops cinnamon oil or 1 teaspoon ground cinnamon. ...
Part your hair. ...
Spread the remaining mixture to the ends of your hair.
Let sit for 15 minutes.
How long do you leave in a honey and cinnamon mask in your hair?
Lighten Your Hair With Cinnamon and Honey🍯

Apply it through your hair. It may get really messy! It is best to leave it in over night( 6-8 hours ).
How long should you leave honey in your hair?
Leave on for 30 minutes . Rinse the mask from your hair and shampoo as usual to ensure you've removed all ingredients.