Oils for taking care of yourself and your skin are not new in the world of cosmetology. They soften, restore and soothe the skin, fight peeling, protect against negative environmental factors. However, in the fight against "orange peel" women use a special anti-cellulite massage oil. What is it and what effect does it give when applied?
Anti-cellulite oil: help in the fight
It is no secret that body massage is carried out using a special cream or oil. This makes it easier for the master to slide over the body with his hands, reducing the risk of damaging the skin or stretching it unnecessarily. At the same time, additional care is provided, because oil is a real storehouse of useful macro- and microelements, vitamins, and nutrients. The oil tightens the skin, that is, fights its flabbiness, activates metabolic processes in tissues, moisturizes and nourishes, accelerating the healing of microdamages and increasing the elasticity of the epidermis.
If the oil also has an anti-cellulite effect, then the benefits of its effects increase significantly. As a result of its use, blood circulation and lymph flow are accelerated, the intercellular space is freed from excess fluid, and this has a beneficial effect on the relief - the manifestations of tubercles and depressions become less pronounced, and the overall tone of the body increases. The composition of such a product, in addition to the base oil, includes essential oils, as well as vitamins, extracts of plants and herbs, seaweed, etc.
How to use massage oil for cellulite?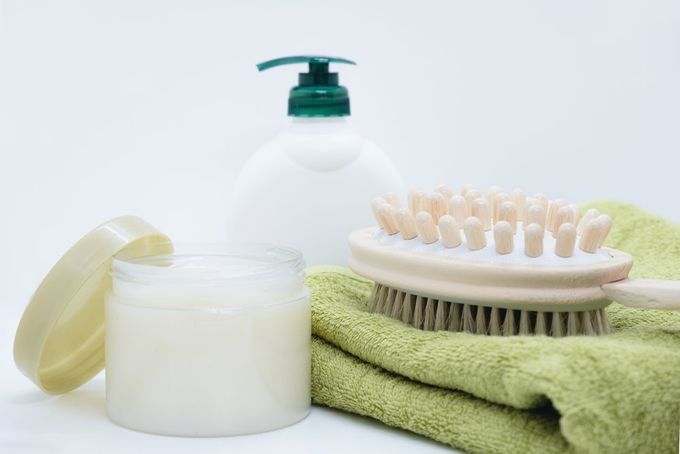 The secret of smooth skin lies in the regular use of anti-cellulite massage oil, but a positive effect can only be achieved if this cosmetic product is combined with massage. That is, by itself it does not work or works poorly, an external mechanical action is necessary. What type of massage a woman chooses is up to her to decide.
Usually at home massage is performed:
electric hand massager;
hands;
vacuum banks.
Preparation for the procedure and the massage itself
The first thing to do is to steam out the problem areas that you plan to work on. To enhance the effect, you can treat the skin with a scrub, but do not be too zealous so as not to damage the integument. Then apply a little oil on the body and start the massage.
The most important thing is to try to make movements from the bottom up, affecting each area for at least 10 and no more than 15-20 minutes.
Keep in mind that any anti-cellulite massager requires the use of its own technique and compliance with certain rules of use, so read the instructions. In general, they all work for the result, providing a mechanical effect, warming up the skin and enhancing the flow of metabolism in it.
At the end of the massage, it is better to insulate the places covered with orange peel and lie down for a while, allowing the skin and subcutaneous tissues to recover. Do not go outside for an hour, especially in cold weather.
Anti-cellulite massage with oil must be combined with wraps, proper nutrition and sports in order to get the most pronounced result.
Things to know (Q&A)
Which oil is best for removing cellulite?
According to a 2017 review article , published in Evidence-Based Complementary and Alternative Medicine, the most commonly used essential oils for treating cellulite include:
cedarwood.
cypress.
fennel.
geranium.
grapefruit.
juniper.
lavender.
lemon.
What does anti cellulite massage oil do?
ANTI CELLULITE OIL helps break down fat cells in those problem areas such as hips, thighs, buttocks and abdomen . Unlike cellulite cream it absorbs into the skin immediately and attacks those unwanted fat tissues.
How do you make anti cellulite massage oil?
Ingredients
1/2 cup jojoba oil.
15 drops grapefruit essential oil.
15 drops rosemary essential oil.
15 drops juniper essential oil.
How long does it take for anti cellulite oil to work?
Many said they saw noticeable differences within just a few days , watching as areas of insecurity smoothed out beautifully and regained lost elasticity. One reviewer even said that after just one week, their cellulite had vanished completel
What is the fastest way to get rid of cellulite on legs?
Rather than focus on one single exercise, aim for a regular workout routine that combines aerobic exercises and strength training . Aerobic activities help you burn fat, while strength exercises build muscle and help with overall skin elasticity. Combined, all these factors may help improve thigh cellulit
Does coconut oil remove cellulite?
There's little medical evidence that coconut oil reduces or reverses cellulite . However, its moisturizing and collagen-producing properties may be helpful for some people. Your skin is affected by more than what you put on i
Can essential oils reduce cellulite?
Poor circulation, fat accumulation under the skin, and structurally weak skin that lacks enough collagen also contribute to cellulite. Since essential oils can effectively improve all of these conditions, that makes them quite effective in combating cellulite
Can massage oil get rid of cellulite?
The oil works to help moisturize and tighten your skin, and even swears it can help remove cellulite from your hips, abdomen, thighs and butt . It's infused with collagen and stem cells to help plump up and boost your ski
What is the benefits of cellulite massager?
A cellulite massager is designed to deliver the positive of benefits of an anti cellulite massage. The cellulite massager helps break down fat deposits at the affected areas and also increases blood circulation to the area .
Is massaging your cellulite good?
No matter which massage technique is applied, the main focus of cellulite massage is to spread these fat deposits out. But it also helps by stimulating the tissues around cellulite formations, boosting blood circulation and lymphatic functions .
How do you make an anti cellulite massage?
Put your right hand on your right buttock and massage the buttock with circular movements (counter-clockwise), starting from the hip and moving towards the thigh, and then going back to the hip. Massage 2. Pinch and press the skin of the buttocks strongly with both hands.
Which oil is best for cellulite massage?
With these tips in mind, let's move on to the eight best essential oils reputed to reduce the appearance of cellulite:
LEMON ESSENTIAL OIL. ...
JUNIPER BERRY ESSENTIAL OIL. ...
SAGE ESSENTIAL OIL. ...
CEDARWOOD ESSENTIAL OIL. ...
GRAPEFRUIT ESSENTIAL OIL. ...
BLACK PEPPER ESSENTIAL OIL. ...
SWEET FENNEL ESSENTIAL OIL. ...
LITSEA CUBEBA ESSENTIAL OIL.
What is the main ingredient to fight cellulite?
Euglena Gracilis and Glaucium Flavum Extracts – when combined with caffeine, these substances have been shown in clinical studies to help the body shed adipocytes (fat cells). Users reported some pretty encouraging results in reducing the appearance of cellulite.
Can you get rid of cellulite by massaging?
However, massage won't cure cellulite . While massage may improve appearance, results typically don't last for long and in many cases repeat treatments are necessary.
Does cellulite oil actually work?
No Scientific Proof . But doctors said is no scientific proof that cellulite creams are effective in getting rid of cellulite or reducing its appearance. Women who believe that they can eliminate cellulite through creams, or even weight loss, are likely to be disappointed, said Dr.
How long does it take for cellulite to go away?
This causes the fat cells to rupture and their contents to be absorbed by the body. Several treatments are needed to dissolve an inch of fat. It may take three to four months to see a noticeable reduction in cellulite.
When should I use anti cellulite oil?
Unlike other cellulite creams. ✔ How to Use (Massage): Apply Daily about 5cc on damp skin after taking a shower to lock in the moisture . Start with one area then slowly spread out the oil. Massage thoroughly for 10-15 min.