Refugee haute couture, homeless teen fashion designers and clothing for young people: social fashion takes very different forms - and projects important to marginalized communities are often mixed with the exploitation of someone else's image or creativity. Ekaterina Bodyagina studied three Berlin social fashion initiatives and tried to find out if such fashion can help vulnerable groups and become a platform for their expression.
Ripped tops, shaggy hairstyles, tall hats and oversized trousers - in 2000, British fashion designer John Galliano was criticized for a collection inspired by the Parisian homeless, which the designer created for the fashion house Dior. The show provoked protests, critics talked about enrichment at the expense of other people's suffering. A similar fate befell designers Keenan Duffty, Erin Wasson, Scott Schumann and other fashion designers romanticizing the image of the homeless.
A new generation of designers is abandoning the appropriation of the aesthetics of vulnerable segments of the population and trying to create collections not at their expense, but for them.
In 2012, two social projects appeared in Detroit at once: designer Victoria Scott developed a stylish and practical coat that transforms into a sleeping bag, and fashion designer Mike Forbes created a bag that converts into a pair of boots.
Newer bright projects: the brand of inclusive and sustainable fashion Remexe, created in 2017 in the third largest favela in Brazil - Aglomerado da Serra, in the city of Belo Horizonte. The 2019 Dze Georgian collection, designed to draw attention to the Dzegvi shelter for the homeless in Tbilisi, where the models are shelter residents and the Dze collection consists of their wardrobe. Another discovery of 2019 is the FFORA brand of accessories for wheelchairs and people with disabilities.
"I don't believe in the existence of social and non-social business in the modern world, because every business has social and environmental consequences," says Rogelio Garcia Contreras. Director of Innovative Social Programs at the University of Arkansas, USA. - But in the academic sense of the word, social business is an enterprise, the main goal of which is not only the return on invested capital, but also the social consequences of this activity. Social entrepreneurship is creating a movement around itself that believes that business should take into account, among other things, the social well-being of others. "
Among the key criteria for the sociality of the project, Dr. García Contreras names three: 1) the size of the audience that the business has an impact on; 2) the type of this influence; 3) changing the behavior of the target group of the project.
One of the most interesting and fruitful social business sites in Europe is Berlin. It has 70 publicly funded organizations and 40 incubators for startups, as well as social business laboratories such as the Social Impact Lab, an incubator of ideas. Collaboration and financing platform; Inclusive Business Action Network is a cooperation of entrepreneurs. Who commit to invest half of their income in social projects; tbd * - community of social entrepreneurs of the city; Startnext Lab is a crowdfunding platform for social entrepreneurs.
"Collaboration of all social actors is important to create a good climate for social business. Business by itself cannot solve social problems. The liberal idea is that the state is ineffective in dealing with economic issues. But business prioritizes its own benefit and that is why it cannot be the only savior. The key to success is the collaboration of all members of society. Non-monetary actors are also important in building social business. Collaboration of different segments of society is necessary for success: government, international organizations, foundations, private owners, investors, "says Rogelio Contreras.
In Berlin, such a dialogue exists: Impact Hub, for example, is sponsored by both the state and private investors, and both NGOs and businesses of various sizes are involved in numerous discussions and accelerators.
Knife met with the creators of three social fashion projects in Berlin and discussed the specifics of their work, target audience and future plans. All three projects are very different: Auf Augenhoehe, a responsive fashion brand, created specifically for people with dwarfism; PEOPLE works with homeless teenagers, but doesn't create collections for them; and the Happy Nation refugee collection is a one-time happening. Which can be safely attributed to an art project.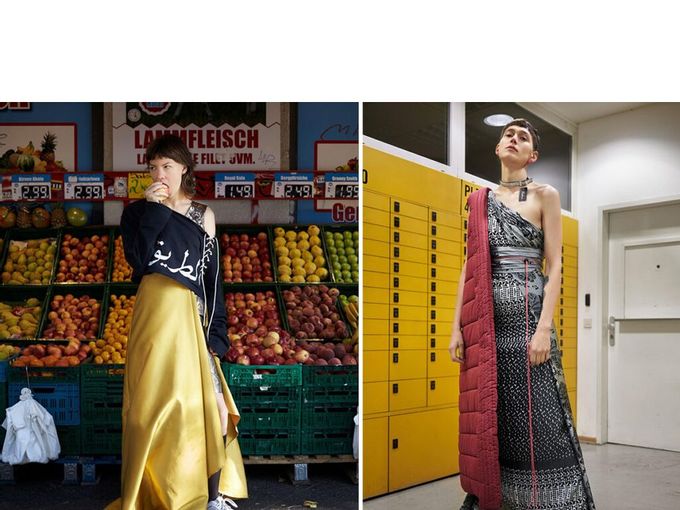 Happy Nation Refugee Collection *
Designer Caecilia Pohl lives in the heart of Berlin's Neukölln. The balcony of Sicily hovers over Turkish and Arab shops: wedding dresses, oriental sweets and spices, kebabs, flowers, household goods. Her favorite grocery is Turkish: there Sicily buys fresh herbs. According to the designer, these outings are the only form of communication with neighbors. "Berlin is considered Babylon, but despite this pandemonium, many groups live in parallel realities that only occasionally touch. I thought for a long time about how I personally can establish a dialogue between these worlds, and chose the most accessible way of communication for me - fashion, "says Sicily.
In 2015, amid a wave of millions of refugees to Germany, Sicily decided to create a collection together with the new arrivals: "First of all, I wanted to organize a platform for exchange: ideas, cultures, tastes, aesthetics". Sicily received a small grant from the government of Berlin, a studio and began to assemble a team. As a result, the designer has three permanent colleagues: Zala, a 37-year-old Kurdish designer from Syria; Negar, a 52-year-old art teacher from Iran; Faiz, a 30-year-old illustrator from Syria.
The hall aesthetically strived for voluminous dresses, with layered skirts and corsets, in the spirit of oriental wedding dresses. As a result, he created two lush gold dresses.
"I was inspired by the creations of the Hall and stylized them in a more modern, minimalist manner. Every time I showed him my sketches, he shook his head and laughed - he once said that women in this country are allowed too much. It was not an easy collaboration, but precisely because of the collision of our worlds, the collection turned out to be sharp and vibrant. "
Together with Negar, Sicily created the Iranian carpet: bright, colorful, with character. According to Negar, the carpet expresses the feelings and beliefs of its creator - through it you can see where the artist is from and what is happening in his head and heart.
Graphic designer Faiz drew two patterns for the collection, inspired by oriental motives, but executed in a minimalist manner.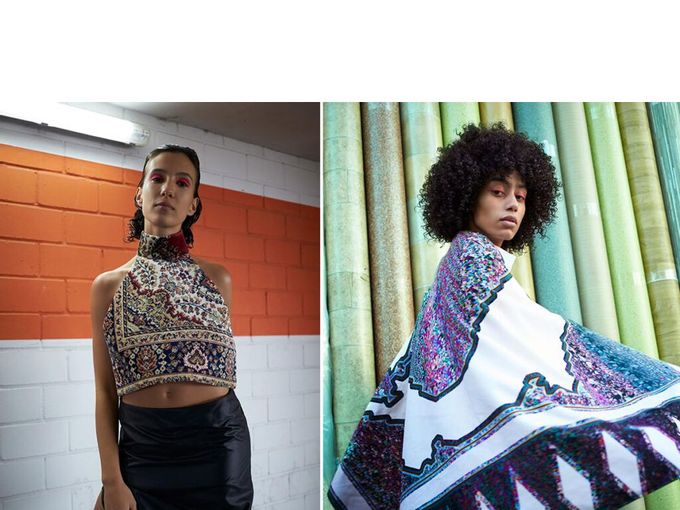 "I would call our collection a Neukeln mixture of Orientalism and Occidentalism, a collage of Western and Eastern elements. It turned out to be piercing precisely due to the fact that everyone did what he wanted and knew how. The lush aesthetics of Hall in this collection conflicts with my postmodern approach, and this is what makes the collection unique. "
According to Sicily, despite the fact that her colleagues were from the same region, the influence of their origin on aesthetics was significantly different: the background of the Hall was traced in his creations, and in the illustrations of Faiz it was barely discernible.
Sicily filmed the lookbook of the final collection at the local Späti, a small convenience store that is open late. The Turkish saleswoman liked the collection: she told Sicily that she also sews and wants to create something similar.
"At that moment I realized that the collection had achieved its goal - I managed to get out of my usual environment and perception, and most importantly - to create a platform for new social interactions".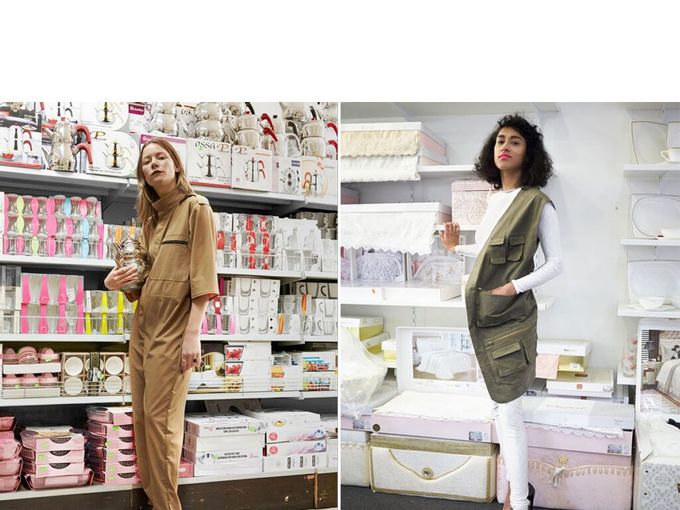 At the end of the work, the designer conducted interviews with all participants in the process in order to understand what exactly brought them together. The designer of the Hall replied that he took part in the project because he wanted to try something new, but also to stay in the fashion industry, to make new contacts. "Knife" decided to ask the designer if he got what he wanted:
"It was very interesting to communicate with Sicily, but in a working sense, the project did not give me anything. It is difficult for me to find a job in my specialty in Berlin, I am still looking for it. "
According to the weaver Negar, due to the difficulties of translating from Farsi into German and vice versa, she was initially sure that she was taking part in a project about carpets, and not in preparing a design show. And I was very surprised when, by the end of our collaboration, I found out that Happy Nation is a fashion collection.
Graphic designer Faiz came to the project because of the social component: according to him, there is tolerance and acceptance of other cultures in Berlin, but communication and communication are more and more difficult. Fashion for Faiz is "madness, innovation, taste", so participation in the project was a chance to develop your creativity and try something new.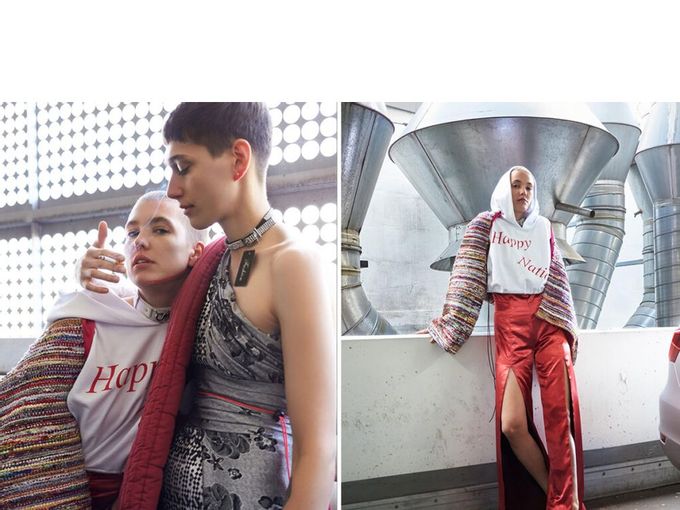 "I think I managed to introduce my colleagues to the German fashion world, and this is not a bad achievement. Our collection has also enriched the portfolio of exhibitors, - sums up Sicily. - Now I would do a lot differently: I would tie the project to an institution or an NGO, for example. This would create a platform for communication and exchange, as well as continue the project and make it more ambitious. "
"The main problem of social entrepreneurship today, and it is precisely this problem that does not allow social business to reach its full potential, is the tendency for its social mission and real influence to diverge from its financial stability. Also, if a social company cannot demonstrate the impact of its activities, then its activities are useless, "comments Rogelio García Contreras.
High fashion brand PEOPLE from homeless and addicted teenagers
Instagram
Shop online
Earrings - 60-110 euros. T-shirts - 70-190 euros. Trousers - 120-160 euros. Dress - 170 euros. Coat - 310-370 euros
Not far from the Lichtenberg station, in a residential area of ​​Berlin, there is one of the offices of the non-profit organization KARUNA, which works with children and adolescents in difficult situations. The Lichtenberg branch specializes in adolescents who use drugs and alcohol, who live on the streets, and who are suffering from mental illness.
In 2015, the organization opened the fashion brand PEOPLE. Three designers - Ayleen Meissner, Eva Sichelstiel and Cornelia Zoller - studied together at the university and a few years after graduation, having worked in the fashion industry, decided that they wanted to create fashion with meaning. Armed with the support of the NGO KARUNA, the VW association and the charity terre des hommes, designers began creating haute couture with the teenagers who come to KARUNA for help.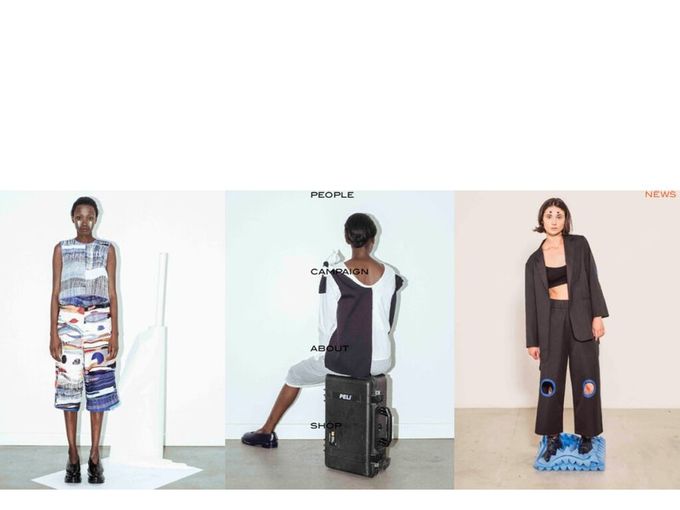 The team does not have a clear structure and work plan: in the premises next to the KARUNA branch, where the PEOPLE brand is located, the doors are always open during working hours. Teens come and go as they please and contribute to the implementation of the collection.
The three designers meet their fickle team during classic office hours: Monday through Friday, 9:30 am to 6 pm. There are 20 people in the office every day. During its five-year existence, PEOPLE has released four successful collections and is working on a fifth.
"The process of creating a collection takes a maximum of a year, which can be divided into three key periods: brainstorming, prototyping the collection and its launch," says Cornelia Zoller, one of the project designers. - First, together with the teenagers, we decide what topic we want to devote to the upcoming collection. This is a very important stage, because the goal of PEOPLE is to create a platform for expressing the feelings and emotions of people who are most often overlooked by society. We discuss how they feel in society, what is important to them.
When we find a topic that is to the liking of all the participants in the discussion, we launch a series of workshops: on creating collages, patterns and other creative techniques. During workshops, we always keep the main theme of the collection in our head and all participants and participants try to find its most individual visual interpretation.
Having picked up interesting solutions, we focus on developing specific ideas - at this stage, workshops also change: we begin to create each one for solving a specific problem - how to create the effect of a worn fabric, for example. When all the items are ready, professional photographers shoot them and we launch the collection on sale in our pop-up stores. "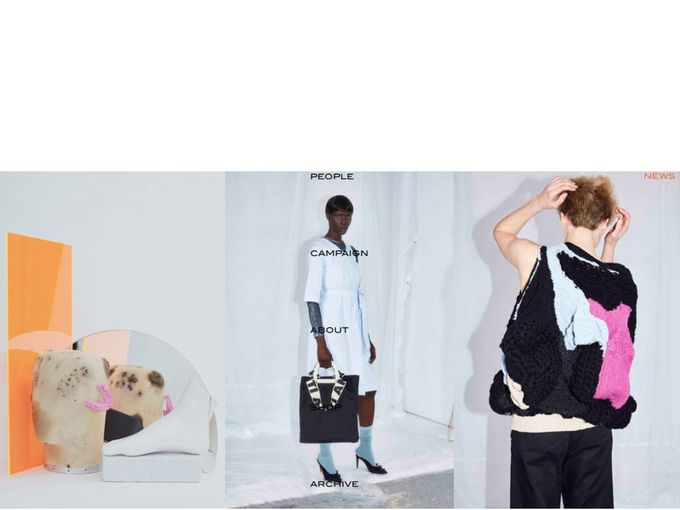 According to the designer, the team works conceptually: the guys do not create models for their wardrobe, but a message to society. The first collection of the PEOPLE brand was called Stop Labeling. The name was formed from the often arising feeling of teenagers that society is constantly trying to put a stamp on them, put them in a certain category, and stigmatize them.
In the second collection - Snow in Summer - teenagers reflected on the theme of their homeland and attempts to start everything from scratch. The third collection, Unlike You, according to Cornelia, turned out to be the most rebellious. Her main message was: "I am the same as you, but different." In this collection, for example, there was a pink long dress with a print from the moods of young designers: aggression, frustration, sadness, joy. And also earrings with teenagers' teeth prints.
The fourth collection - Blind World - talked about the teenagers' feeling that the adults around them are blind to them and their needs, as if the world is turned upside down. PEOPLE found an interesting visual solution to this feeling - each piece was double: for example, a jacket that can be worn inside out, or a dress that is split in two and creates the effect of two people.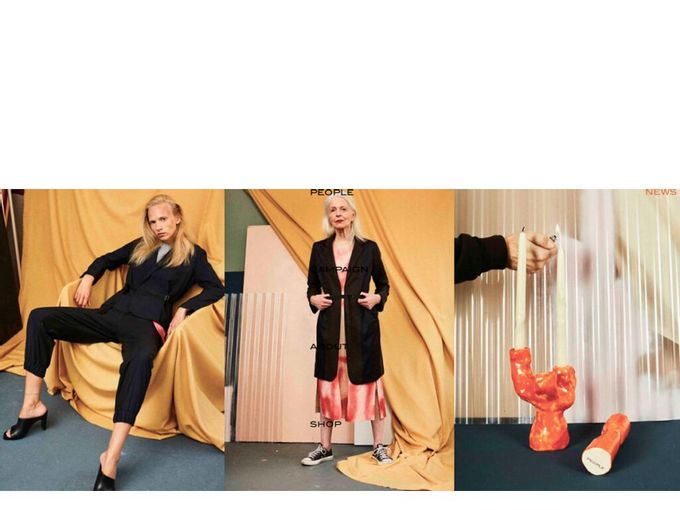 "Fashion is an elite industry. It is believed that the people who work in it must have the appropriate education. But what teenagers create is amazing. They subtly feel the spirit of the time and bring their elements into it. Graffiti, for example, has become a recurring visual theme in all of our collections, "says Cornelia.
A wide cotton dress with a graffiti print, loose navy blue pants with holes in the knees, a jacket hand-sewn from colorful pieces of jeans - each piece has a special, often heartbreaking, story.
"Once one of the girls came up with the idea to create a jacket with cut off pockets. When we asked why she wants to cut them off, the young designer admitted that when moving from place to place, she has to carry a pile of things with her. So, she wants a moment in her life when she finds her home and she no longer needs pockets with belongings packed in them, "says Cornelia.
Teamwork is a key element in the creation of every collection. Despite the fact that adolescents have different and often complex backgrounds, they, according to the creators of the brand, treat each other with respect:
"Once a girl who was working on a sweater said, 'I'm tired, I can't take it anymore,' and another teenager immediately came to her aid. The result was a sweater, each piece of which was created by a separate participant, "says Cornelia.
According to the creators, the brand's goal is not only to give teenagers the opportunity to express themselves and find colleagues, but also to show how the fashion industry works from the inside. Homeless and dependent adolescents are often excluded from the education system, which is why PEOPLE wants to give them the opportunity to acquire professional skills.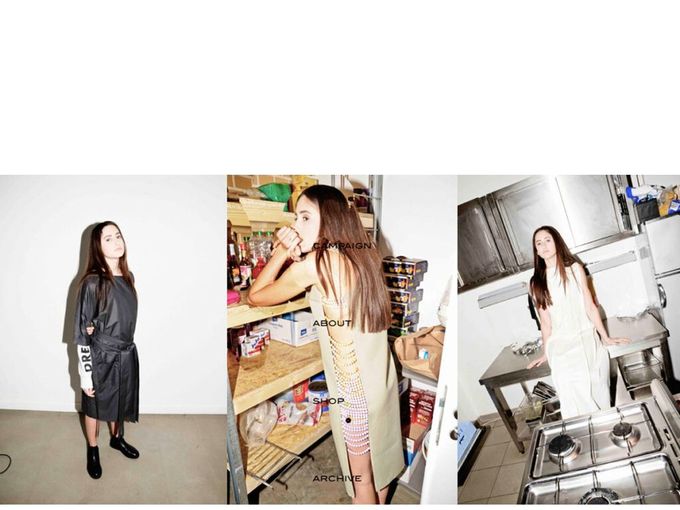 For some teenagers, Cornelia says PEOPLE has become the center of their lives. The feeling that they are participating in a complex process, creating and relying on their colleagues became crucial. "Knife" was not able to find out what the teenagers themselves think about working in the brand: the project operates on the principle of a shelter, in anonymous mode. Under each new collection, only the names of the participants and participants are registered.
All proceeds from sales are returned to NPO KARUNA, that is, to provide help and support to the teenagers who create this fashion. And also to create the next collection.
Since the visiting schedule is free and the creators of the collection change from session to session, the brand does not pay salaries to teens. Brand buyers range from fashionists to people who are primarily interested in the social component of the brand.
"I don't see a problem in the fact that the less protected segments of society create products for the wealthier, - this is how the market works. What is more important: can a specific organization ensure its economic stability due to this and achieve the social goal that it sets for itself? " - comments Rogelio Garcia Contreras.
Street Fashion for Little People Auf Augenhoehe
Instagram
Shop online
T-shirts - 29.90 euros. Skirts - 69.90 euros. Trousers € 99.90–109.90. Jackets - 89.90-139.90 euros
Designer Sema Gedik is the founder of the world's first fashion brand for people with dwarfism, Auf Augenhoehe. When buyers or just sympathizers first meet Sema, they ask in disbelief why she is in this business. The fact is that Sema does not belong to the community of small people. In response to questions from skeptics, the designer tells the story of her family:
"My cousin Funda is a small person. Since childhood, I have seen how difficult it is for her to choose clothes. And she is a fashionista and loves to dress up. "
Before Sema created her own brand, she trained as a designer, worked in several fashion houses and realized that she did not find her mission in the fashion industry. "I could not understand what was the matter: I love to create, I love to turn an idea into a product, I love fashion - what am I missing?"
Then Sema decided to talk to Funda: find out where she buys clothes and whether the difficulties with finding the right one are still relevant.
"It turned out that for all these years there was no niche brand and Funda was still altering the clothes she found with difficulty. Then I thought for the first time that I needed to fix it. "
Sema contacted the German Federal Union of Little People and Their Families (Bundesverband Kleinwüchsige Menschen und ihre Familien e. V., BKMF) and said she wanted to create a brand for people with dwarfism.
"The union confirmed that little people really need such a brand, and they liked my idea. Then I realized that my mission in the fashion world could be to create models for people of sizes that are not on the market. "
For six years, Sema studied the industry and the needs of little people, and in 2018 she opened Auf Augenhoehe: first she received a Berliner Start Up scholarship, then through crowdfunding, then thanks to a grant from the Tommy Hilfiger Social Innovation Challenge. And after a couple of years, even having achieved complete financial independence.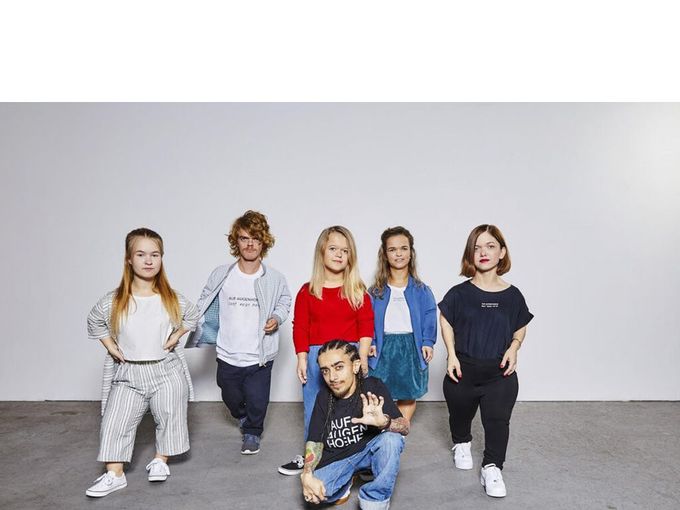 "I do not belong to small people and at first knew little about their requests, so I immediately decided to take people with dwarfism into the team so that they themselves form the agenda. From the very beginning, it was important for me to put the question in such a way that it was not me who was doing something for little people, but we, together with them, were making a product for people with dwarfism. Little people are the heart of my company. They are involved in all stages of garment production. Nothing for us without us is the slogan of our teamwork. "
The company has a ten-person advisory board - all small people - that determines the needs of the brand's target audience. Auf Augenhoehe also conducts surveys of young people to know what suits them best, what they need the most, and how much they are willing to spend.
"What we do at Auf Augenhoehe has never been done before us: market analysis, model selection - we create everything from scratch. We even created a special size system for small people - it didn't exist before us. "
To create such a system, the team took measurements from small people for two years. Auf Augenhoehe will soon release a special measuring system app for little people.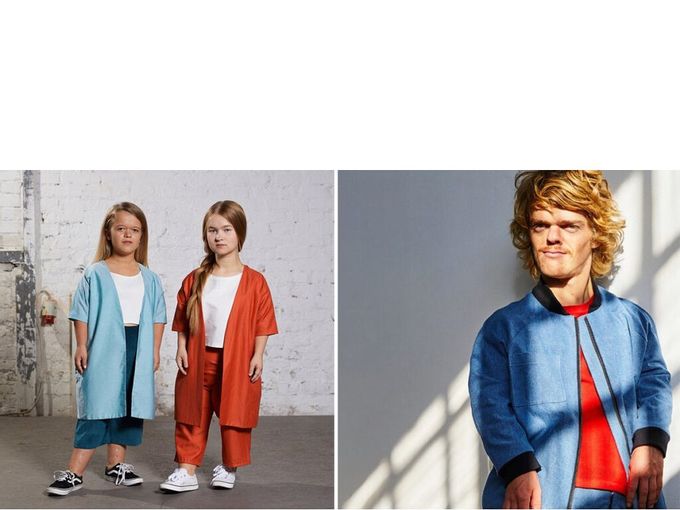 Auf Augenhoehe is streetwear with clean lines for everyday wear. The designer calls her collections timeless, versatile, and most importantly, perfectly fitting:
"Imagine that in most stores you cannot even find basic items of your size: stockings, shirts, pants. I once attended a conference in Madrid, and a family of little people traveled eight hours to get to know me. I suggested that one of the girls try on a jacket. In my opinion, she was a little too big for her. But the most important thing for her was the fact that the length of the sleeve suited her - this happened to her for the first time.
Sometimes shoppers enter our store with skepticism, because usually the clothes on the market do not match the proportions of their bodies. But when they see things like stockings and T-shirts fit perfectly, they start recommending Auf Augenhoehe in their community. This is how we acquired most of our international clientele. "
Auf Augenhoehe is in talks with Tommy Hilfiger to launch a collection for little people. The brand plans to expand and cover clients of all sizes.
"Fashion has enormous political potential. She sets trends. People tell stories daily through their clothes. These trends and stories can drive change. Why not use this power for good purposes? " - Sema argues.
Knife spoke with two brand clients: Sherin and Mick. According to Sherine, most of her wardrobe consists of Auf Augenhoehe clothes:
"The brand's collections are stylish and fit me perfectly. The latter is a rarity in other stores, where the mannequins and models themselves look different from me. Auf Augenhoehe is a special company: it makes me feel like I am included in an industry that is often quite exclusive. "
Another client of the brand, Mick, has been working with designer Sema Gedick since 2012: he is one of the first Auf Augenhoehe models to be measured for launching collections.
"Auf Augenhoehe means 'At eye level', that is, 'At the same level'. This is what attracts me to this brand: I feel on par with other representatives of the fashion industry. I can buy clothes that suit my taste and are made especially for me. And I no longer have to visit the children's departments of other brands, where if there is a T-shirt in my size, it will certainly be with a Mickey Mouse print. I am an adult, I am 24 years old, and I want to look my age, "says Mick.
"A social business works best when its target audience — those for whose welfare it is run — is involved in the creative process of creating the business's products. In this case, the social impact and involvement of the organization is maximized and its values ​​are formed most reliably, "comments Rogelio García Contreras.